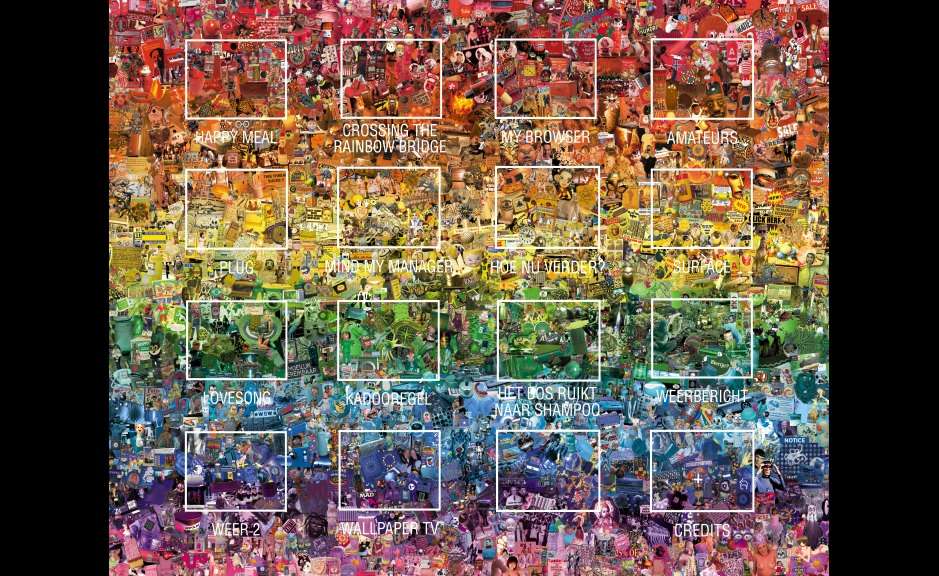 June 2004
DVD menu / navigation; choose and zoom into a part of the rainbow.
Concept
A girl walks in the woods and says: "Daddy, the woods smell like shampoo". This dvd collects 14 video–productions of young film–makers growing up in the age of the media, on the other side of the rainbow: The Shampoo Generation.
Medium
DVD (European) and television broadcast. See also: VPRO's Nachtpodium (Dutch) of Monday September 27 2004, 0:19 a.m.
Production
All Media / Koert van Mensvoort
Interface
Arnoud van den Heuvel
Technique
Dennis Lodewijks
Playlist
1. Happy Meal - Oskar Nilsson 2002
2. Crossing the Rainbow Bridge - Persijn Broersen, Magrit Lukàcs 2003
3. My Browser - Crabsalad 2002
4. Amateurs - Koert van Mensvoort 1999
5. Plug - Marius Gronvold, Anders Hoofgard
6. Mind my Manager - Luna Maurer 2000
7. Hoe nu verder? - Michel van Duyvenbode 1999
8. Surface - Ryan Oduber 2004
9. Lovesong - Dario Bardiç
10. Kadooregel - Tammuz Binshtock 2001
11. Het Bos ruikt naar Shampoo - Michel van Duyvenbode, Koert van Mensvoort 2001
12. Weerbericht - Luna Maurer, Kathrin Hero 2001
13. Zon - Martin Takken 2000
14. Wallpaper TV - Persijn Broersen 2000
Thanks to
Sandberg Institute
Ordering information
All Media